⇐ Back to UMBC Abroad Home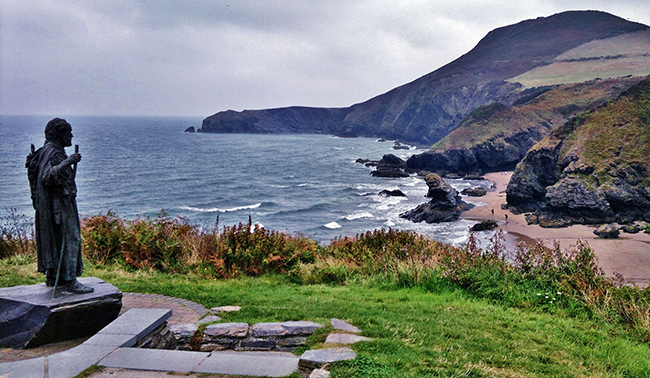 Creative Writing
Wales, UK
May 27 – June 7, 2019
Course Overview
The Dylan Thomas International Summer School is a 12-day intensive creative writing program, with a focus on "spirit of place" in its daily writing workshops, excursions, and evening readings by visiting authors. An added benefit is the chance to study with a diverse mix of undergraduate, graduate, and post-graduate writing students.
Program Details
The program cost includes:
One UMBC course taught by Professor Sally Shivnan (ENGL 475, 3 credits)
Waived UMBC tuition
Housing with private baths
All meals
Airport pick-up and drop-off in London
Guest speakers
Cultural Activities and field trips
International Health Insurance
Pre-Departure Program Requirements
Minimum GPA: You must have at least a 2.5 GPA when you apply and be in good academic and disciplinary standing.
Attend Study Abroad 101: One-hour sessions are held every Monday at 12pm, Wednesday at 11am and Thursday at 3pm in Administration Building 301.
Drop-In Education Abroad Advising: You must meet with an Education Abroad advisor during a drop-in advising session. Drop-in advising is available every Tuesday at 3pm and Friday at 12pm in Administration Building 301.
Cost and Payment Schedule
| | | |
| --- | --- | --- |
| Charged to Student Account | Amount | When |
| Non-Refundable Application Fee | $100 | Day after application deadline |
| Non-Refundable Confirmation Deposit | $400 | Within 10 days of committing to program |
| Program Fee (remaining balance) | | Remaining program fee (minus the $500 deposits previously paid) is billed upon registration for study abroad course/s |
| Non-Refundable Late Application Fee | $100 | Late fee is charged if you apply after the standard deadline |
The Country
The programis hosted bythe University of Wales Trinity St David in the small town of Lampeterin Wales, UK. This beautiful campus, dating from 1822, is close to both the coast and the mountains, an ideal base for daily excursions that invite students to connect to landscapeand culture in their writing. From ancient castles to dramatic coastal cliffs to historic mining towns, Wales provides the inspiration for the program's "spirit of place" theme.
Faculty Overview
Sally Shivnan teaches writing for the English department at UMBC. She is the author of the short story collection Piranhas & Quicksand & Love, and her fiction, essays, and travel writing have appeared in many publications and in anthologies including The Best American Travel Writing series. "Prose and Poetry," her broadcast at the Radio Reading Network, streams to blind and visually impaired listeners, bringing them a range of classic and contemporary works. Since 2016, she has been helping UMBC students explore creative writing, and the beautiful country of Wales, at the Dylan Thomas Summer School program.