Spanish Language Immersion
Barranquilla, Colombia
July 13 – August 17, 2019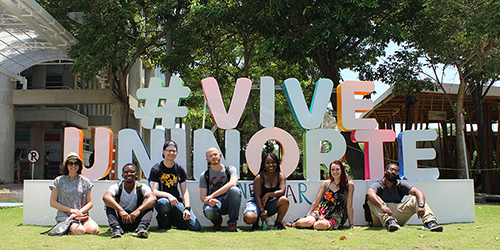 Course Overview
All courses will be held at the Instituto de Idiomas of the Universidad del Norte in Barranquilla, Colombia. Participants who successfully completeall the requirements in the two courses will earn a total of seven (7) UMBC undergraduate credits.
SPAN 101, SPAN 102, SPAN 201, SPAN 202, SPAN 301, or SPAN 302 (4 credits): Students will earn credits in SPAN 101, SPAN 102, SPAN 201, SPAN 202, SPAN 301, or SPAN 302 depending on their placement in the program. Participants arriving in Barranquilla will take a Spanish placement exam. Students are then divided into different language level groups according to their language ability as determined by the Common European Framework of Reference forLanguages (CEFR). Each language level has a modular structure focusing on a particular skill, while also utilizing other methods to improve on existing knowledge.
and
MLL 300 or SPAN 303: Colombian Caribbean Culture in an Intercultural Perspective (3 credits): This course covers representative intercultural topics of the region. Through a series of site visits, visual presentations and lectures, the course provides students with a significant exposure to the society, history, art, literature, and music of the Colombian Caribbean region from colonization until the present. This course gives students the opportunity to sharpen their critical and analytic skills as well as intercultural awareness in order to become more literate global citizens by combining academic and experiential learning.
The Country
Located on the northern coast of Colombia, Barranquilla is the largest industrial city and port in the Caribbean region of Colombia; it is Colombia's fourth most populous city. Thanks to its strategic geographical position in the Latin American Caribbean, the city is the cultural epicenter of the entire region. The culture of the city and the region is described as "tricultural" (AfroCaribbean, indigenous, and European), making it an ideal place for living and studyinga notably diverse and intercultural population. The city is rich in folk music, art and literature. Further, the warmth and friendliness of its people, its sunny and tropical environment, its growing industry and the high academic quality of its educational institutions make Barranquilla an ideal city for international students to improve their Spanish language skills and develop their intercultural competency.
Faculty Overview
Mrs. Milvia Hernandez is from Barranquilla, Colombia, and moved to the U.S.after receiving her BA in Educational Psychology. After receiving her MA in Second Language Acquisition and Application from the University of Maryland, College Park, she became a lecturer and language coordinator for Spanish at UMBC. Her passion is teaching and she hopes to bring as many UMBC students as possible to Barranquilla to improve their Spanish skills while experiencing a country that is rich with history and culture.