⇐ Back to UMBC Abroad Home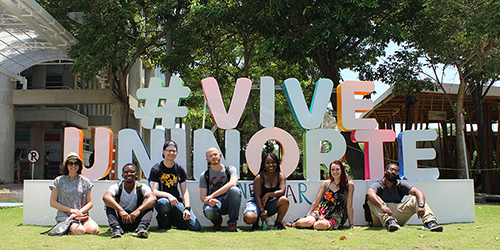 Spanish Language Immersion
Barranquilla, Colombia
July 13 – August 17, 2019
Course Overview
All classes will be held at the Instituto de Idiomas of the Universidad del Norte in Barranquilla, Colombia. Participants who successfully complete all requirements in both courses will earn 7 UMBC undergraduate credits.
Program Details
The program cost includes:
One Spanish course taught in Spanish at UniNorte (4 credits)
One 3 credit UMBC course taught in English by Professor Milvia Hernandez (MLL 300 or SPAN 303)
Housing with local families in Barranquilla, including daily meals,
laundry, cable, and internet
Daily transportation from/to housing to the university
Meal plan at UniNorte cafeterias
Airport pick-up and drop-off in Barranquilla
Excursions (including ground transportation, hotel, fees to museums
and lunch) to Cartagena, Santa Marta, Aracataca, Usiacuri, Sierra
Nevada
Cultural Activities (including dance classes, fees to museums, and
events) in Barranquilla
Pre-paid phone for local calls
International Health Insurance
Pre-Departure Program Requirements
Minimum GPA: You must have at least a 2.5 GPA when you apply and be in good academic and disciplinary standing.
Attend Study Abroad 101: One-hour sessions are held every Monday at 12pm, Wednesday at 11am and Thursday at 3pm in Administration Building 301.
Drop-In Education Abroad Advising: You must meet with an Education Abroad advisor during a drop-in advising session. Drop-in advising is available every Tuesday at 3pm and Friday at 12pm in Administration Building 301.
Cost and Payment Schedule
| | | |
| --- | --- | --- |
| Charged to Student Account | Amount | When |
| Non-Refundable Application Fee | $100 | Day after application deadline |
| Non-Refundable Confirmation Deposit | $400 | Within 10 days of committing to program |
| Program Fee (remaining balance) | | Remaining program fee (minus the $500 deposits previously paid) is billed upon registration for study abroad course/s |
| Non-Refundable Late Application Fee | $100 | If applying after deadline |
The Country
Located on the northern coast of Colombia, Barranquilla is the largest industrial city and port in the Caribbean region of Colombia; it is Colombia's fourth most populous city. Thanks to its strategic geographical position in the Latin American Caribbean, the city is the cultural epicenter of the entire region. The culture of the city and the region is described as "tricultural" (AfroCaribbean, indigenous, and European), making it an ideal place for living and studyinga notably diverse and intercultural population. The city is rich in folk music, art and literature. Further, the warmth and friendliness of its people, its sunny and tropical environment, its growing industry and the high academic quality of its educational institutions make Barranquilla an ideal city for international students to improve their Spanish language skills and develop their intercultural competency.
Faculty Overview
Mrs. Milvia Hernandez is from Barranquilla, Colombia, and moved to the U.S.after receiving her BA in Educational Psychology. After receiving her MA in Second Language Acquisition and Application from the University of Maryland, College Park, she became a lecturer and language coordinator for Spanish at UMBC. Her passion is teaching and she hopes to bring as many UMBC students as possible to Barranquilla to improve their Spanish skills while experiencing a country that is rich with history and culture.