⇐ Back to UMBC Abroad Home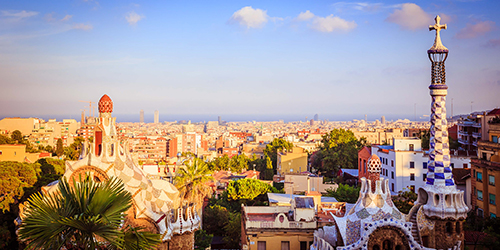 Genome Analysis and Spanish Language
Barcelona, Spain
June 14 - July 27, 2019
Course Options
Starting this June, you'll have the opportunity to spend six weeks with UMBC Biology faculty member, Dr. Ivan Erill, in beautiful Barcelona, Spain as you complete 5-7 credits of UMBC coursework.
BIOL 316L (2 credits) for BIOL majors or
BIOL 216L (2 credits) for non-BIOL majors (fulfills Science lab GEP)
SPAN 101, 201, 202, 301, or 302 (3 credits)
Optional BIOL 499 (1 credit)
Program Details
The program cost includes:
One 3 credit UMBC course (BIOL 316L or BIOL 216L) taught in English by Professor Ivan Erill
One Spanish course taught in Spanish at Universitat Pompeu Fabra (3 credits)
One optional Independent Study research credit (BIOL 499)
Housing in Barcelona with local families (half-board). Laundry, TV and
Internet included.
Cultural activities in Barcelona (fees included)
Site visits to biomedical research centers in Barcelona
Day trips to Montserrat, Tarragona and the beach
Beach-side 4th of July celebration
Opportunity to conduct a research internship in Barcelona
International health insurance
Please note: airfare is NOT included in the program cost
Pre-Departure Program Requirements
Minimum GPA: You must have at least a 2.5 GPA when you apply and be in good academic and disciplinary standing.
Attend Study Abroad 101: One-hour sessions are held every Monday at 12pm, Wednesday at 11am and Thursday at 3pm in Administration Building 301.
Drop-In Education Abroad Advising: You must meet with an Education Abroad advisor during a drop-in advising session. Drop-in advising is available every Tuesday at 3pm and Friday at 12pm in Administration Building 301.
| | | |
| --- | --- | --- |
| Charged to Student Account | Amount | When |
| Non-Refundable Application Fee | $100 | Day after application deadline |
| Non-Refundable Confirmation Deposit | $400 | Within 10 days of committing to program |
| Program Fee (remaining balance) | | Remaining program fee (minus the $500 deposits previously paid) is billed upon registration for study abroad course/s |
| Non-Refundable Late Application Fee | $100 | Late fee is charged if you apply after the standard deadline |
The Country
Located on the northeast coast of Spain, Barcelona is the largest industrial city of Spain and the busiest commercial port of the Mediterranean. It is Spain's second most populous city and, due to its proximity to France, an extremely cosmopolitan, open and integrative city. Barcelona enjoys remarkable warm weather for most of the year, beautiful beaches, striking architecture and a vibrant city life. Barcelona is also a hub for biotechnology and biomedical innovation in Europe, hosting three of the largest biomedical research institutes in Europe, eight research hospitals and three world-class research universities. Barcelona is not just a perfect destination for students to hone their language skills and enjoy its vibrant city life, but also an ideal environment to learn biology and establish long-lasting peer networks to drive future internationally-oriented careers.
Faculty Overview
Dr. Ivan Erill, an associate professor in Biological Sciences,and an affiliate associate professor in Computer Sciences, is the director of this study abroad program. Dr. Erill is a native of Barcelona and has intimate knowledge of the city, the region and its culture. Due to his extensive familiarity with the area,Dr. Erill will offer students additional outside activities that they might not otherwise consider, such as a day at a local beach followed by an authentic local dinner.